Posts Tagged 'Lito Sheppard'
Aug 6, 2008 Eagles Rumors
I'll be heading to Pittsford today to watch some of the Bills' afternoon practice. James Hardy is supposed to be back practicing in full today, so it will be interesting to get a look at him. I should have plenty of photos.
———————————————————
I think Florio at PFT is way off here, again.
The reasoning is simple. If the Eagles put Sheppard at No. 2 behind Brown, then it's hard for them to continue to expect the kind of trade package that a starting cornerback should merit.
I don't believe the Eagles are actively trying to move Sheppard any longer.  The slash on the depth chart is more about appeasing a player who is feeling a little unappreciated right now, and who is also squabbling over a contract. Is it sort of childish? Yeah, it sure is.
Aug 1, 2008 Eagles Rumors
I'm generally not the guy shouting "these guys make way too much money!" when talking about professional athletes' salaries. Our world is one in which you're encouraged to take as big a piece of the pie as you can get (before someone else gets it first). And what, would you rather see the NFL owners pocket more money?
But the Lito Sheppard contract case is driving me crazy. The guy reportedly wants a new contract before the start of the season. He even hired the King of all Assholes to represent him in this endeavor.
And he's doing all of this despite the fact he hasn't been a good cornerback in two years. On top of that, he signed a deal which gave him an $8.75 million signing bonus only a few years ago. That isn't anything to sneeze at, even in today's market.
I understand when a player is dramatically underpaid and he wants a raise. When a guy truly outperforms his contract I have no problem with him asking for more money.
But Lito hasn't done that. He's done the opposite. He's been injured or not playing very well for two straight years.  He hasn't been an asset to the team.  He lacks any real leverage, and I hope the Eagles tell Rosenhaus to shove off.
Update: After giving a little more thought to this… has there ever been any athlete demanding a raise who deserved it less? Seriously, what do you think Rosenhaus is saying in these conversations? The more I think about it, the more I realize this has to be about Lito and Rosenhaus wanting out of town.
Tags: Lito Sheppard, Philadelphia Eagles
May 1, 2008 Eagles Rumors
Brian Dawkins knows that Lito is unhappy with the way the Eagles proceeded with the acquisition Asante Samuel. Presumably, the Eagles never revealed their intentions to Sheppard (are they required to?).
Dawkins doesn't think there is a future in Philly for Lito.
"In the right situation, that would be an awesome situation," the Eagles' six-time Pro Bowl safety said yesterday during an interview at the NovaCare Complex. "This is not the right situation."
…
"The way it has played out, I don't see those three guys being here at the same time," Dawkins said. "It's a tough situation to be in, and this is somebody I'm close to and I consider a close friend. I don't like it for him. Whatever happens, I hope it works out best for Lito. I hate that this is happening to him."
Dawk wouldn't be saying these things if he didn't know for a fact that Lito was upset.
Reid has said that he planned on speaking with Sheppard before this weekend's mini-camp. Considering it's Thursday and that still hasn't taken place, he probably ought to make that happen soon. Unless Andy has some crazy powers of persuasion that we've yet to see any evidence of, the outlook for Lito happily staying in Philly isn't so rosy.
There are several people in the media who claim that the Eagles bungled this situation by not trading Lito before acquiring Samuel, an argument that is totally bogus. The Eagles had no way of knowing they had Samuel signed for sure, so they weren't going to dump Lito before they had him.
Tags: Lito Sheppard, Philadelphia Eagles
Apr 29, 2008 Eagles Rumors
On a weekend filled with several surprises for Eagles fans, perhaps none was as big as having Lito still on the roster when it was all over. Now fans who have been clamoring for the Eagles to hold on to #26 have a glimmer of hope, while everyone else is scratching their heads wondering where the team is going from here.
One thing is still certain in my mind — neither Sheldon nor Lito is going to accept a role as nickel corner happily. Just because Lito has been keeping quiet during this ordeal doesn't mean he's pleased. He's just handling the situation like a professional.
So how have the dynamics of the situation changed after the draft. With several of the rumored parties involved having selected corners at the draft, the Eagles' options may have dwindled.
Let's take a look:
Atlanta Falcons
The Falcons, of course, dumped DeAngelo Hall on the Raiders for a second and a fifth-round pick in this year's draft. That left them with a pretty ugly reality in the secondary — something they tried to address on draft day. They took corner Chavis Jackson and safety Thomas Decoud — both in the third round.
Outlook: This team may still be interested in Lito. Jackson and Decoud are nice young prospects, but they aren't sure-fire NFL starters from day 1.
New England Patriots
This is another team that lost a star cornerback — who is a proud new Eagle. But they also lost another free agent, Randall Gay, to the Saints. They didn't take a corner in the first round as many expected they would. Instead, they got Terrence Wheatley and Jonathan Wilhite later in the draft.
Outlook: Lito could still be on their radar. They do have newcomer Fernando Bryant, but if he's your best corner it's not a great situation.
St. Louis Rams
The Rams used one of their picks on an interesting corner prospect in Justin King. Mel Kiper doesn't quite think he's ready for primetime, but the Rams saw something they liked. This is a team that, in my mind, was a long-shot for Lito anyway — they weren't likely to give up picks or part with Tory Holt.
Outlook: Doubtful that they are involved.
New York Jets
The Jets have been rumored to be calling the Eagles about Sheppard. They could use someone to take the side of the field opposite their promising young corner Darelle Revis. They used a late round selection on Dwight Lowery, but he's a longshot to be a true NFL starter.
Outlook: Likely still interested in Sheppard. Keep in mind, the Jets are generally interested in anything the Pats are doing as well.
Cincinatti Bengals
Trouble
After drafting corner in the first round of the last two drafts, the Bengals completely avoid the position this year. The problem this team faces is that they aren't really sure if those first round selections (Jonathan Joseph and Leon Hall) are any good.
This team is, of course, in a mess with its premier player. Johnson is a clown, and appears determined to burn every bridge he crosses out of Cinci. Are the Eagles interested? Some reports claim they are.
Outlook: The Bengals claim they aren't budging for Johnson. Will they change their tune in time?
Jacksonville Jaguars
Here's a new team to the party. The Jaguars are reportedly putting together a "package" of draft picks to offer the Eagles for Lito. At this point, if the Eagles are unable to obtain a player for Sheppard, they may look to Jacksonville as a last resort (if keeping Lito is simply not an option). Getting more draft picks in 2009 isn't ideal for a team looking to make a run now.
The Jags have an Pro Bowl caliber corner in Rashean Mathis already. If they put Lito on the other side they would have a scary secondary.
Outlook: Could be a strong player if the Eagles are out of options.
Tampa Bay Bucs
This is another team that was rumored to be interested in Lito before the draft. But after picking up Aqib Talib in round one, that is likely over.
Outlook: Not likely to be interested.
Update:  A commenter inquired about the Lions.  Although I see them as an unlikely partner, it's worth putting them here.
Detroit Lions
The Lions traded for Leigh Bodden, a solid, young corner.  We as Eagles fans love the possibility of acquiring a rumored-to-be-on-the-block Roy Williams, but there isn't much indicating that the Lions are interested in Sheppard or giving up Williams.
Outlook:  Unlikely
Tags: Lito Sheppard, Philadelphia Eagles
Apr 23, 2008 Eagles Rumors
As we inch closer to the draft one thing has become apparent regarding the Eagles' mindset for a Lito trade — they would rather not receive draft picks.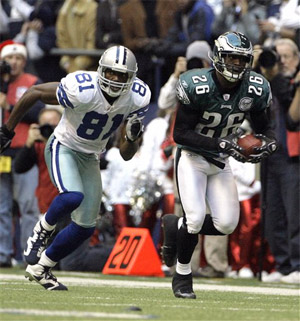 The Eagles have, according to various reports, offered Lito (in combination with their own picks) for Larry Fitzgerald, Jared Allen, Roy Williams, and Chad Johnson. They have also been rumored to be looking at moving up in the first round, and are offering Lito and their own picks to do so. There could be others.
Presumably, there are offers on the table for Lito — which are likely to include draft picks heading the Eagles' way. Unfortunately, it's not the most attractive option for a team with an abundance of them already.
The Eagles already have a talented roster and 11 draft picks. They are likely considering the potential of a nasty numbers game in July if all goes well in the draft. Another two or three picks for Lito will only complicate things further. Any other year and the Eagles would likely be very happy to accept a pick or three and move on — this is awkward timing.
If they are unable to attain a player for Lito it is unknown if they would then consider trying to keep him — despite the obvious complications.  Just another thing keep in mind on what we'll surely be an interesting Saturday.
Apr 16, 2008 Eagles Rumors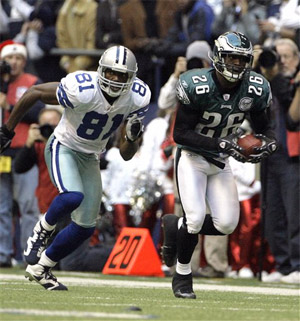 Lito Sheppard is not going to be playing for the Eagles in 2008. Sheldon Brown is not moving to safety (yet), and Lito is not going to accept a role as a nickel corner (neither is Sheldon). Joe Banner is just posturing.
So where will Lito end up? Let's take a look at the potential suitors:
Atlanta Falcons
Starting CBs: Von Hutchins, Chris Houston
1st, 2nd, 3rd Rd Picks: #3, #34, #37, #48, #68, #98
The Falcons just traded away DeAngelo Hall and his ego to the Oakland Raiders. This has left them with a pretty ugly reality in the secondary — but a ton of draft picks to play with — thanks to trades and the NFL's compensatory picks rule.
I think this team would love to get their hands on a young corner with star power like Lito. They need some good press in town, and acquiring Sheppard would be a good move. They are definitely one of the presumed contenders. This might also be ideal for the Eagles, as the front office of the Falcons doesn't exactly have a reputation for being brilliant.
New England Patriots
Starting CBs: Jason Webster, Ellis Hobbs
1st, 2nd, 3rd Rd Picks: #7, #62, #69, #94
This is another team that lost a star cornerback — who is a proud new Eagle. But they also lost another free agent, Randall Gay, to the Saints. Almost every mock draft has them grabbing a cornerback with the #7 pick, but they have also reportedly been inquiring on the status of Lito.
I would be wary of dealing with the Patriots, but if they offer one of their second round picks it could be tempting.
St. Louis Rams
Starting CBs: Tye Hill, Fakhir Brown
1st, 2nd, 3rd Rd Picks: #2, #33, #65
The Rams are another team with a terrible situation at the corner spots. Brown is going to be 31 this season and has never been a big-time playmaker (he has 10 career INTs). Likewise, their young corner opposite Brown has 4 career INTs in 85 games.
The other wild card here is Torry Holt — whom the Eagles could be interested in. It is unlikely the Rams would be willing to trade the fan favorite though, who has spent his entire stellar career there. They don't have a lot of resources to barter with, though — so they will be careful in any trade scenario.
New York Jets
Starter CBs: Darelle Revis, Justin Miller
1st, 2nd, 3rd Rd Picks: #6, #36, #67
The Jets have been rumored to be calling the Eagles about Sheppard. They could use someone to take the side of the field opposite their promising young corner Darelle Revis. This is another team that needs depth in a lot of places, so they likely wouldn't be offering much outside of draft picks.
Cincinatti Bengals
Trouble
Starting CBs: Leon Hall, Jonathan Joseph
1st, 2nd, 3rd Rd Picks: #9, #46, #77, #97
The Bengals corners are relatively young, but are they any good? They drafted Leon Hall last year and aren't going to give up on him yet, even though he was absolutely abused in 2007.
There is, of course, the Chad Johnson soap opera. It would take an incredible offer to pry him away, especially when you consider the Bengals would be burning $8 million in cap space while he's playing for another team. I don't see it happening. Still, they have a few picks to play with, and could be sniffing around Sheppard.
Update: Obviously the latest comments from Chad Johnson probably change the dynamics in Cincy. Those are some strong words.
Kansas City Chiefs
Starting CBs: Patrick Surtain, Dmitri Patterson
1st, 2nd, 3rd Rd Picks: #5, #35, #66
The Chiefs still have the ancient but effective Patrick Surtain covering one side of the field, but the other side is a question mark. Patterson has some decent physical skills, but his play hasn't inspired to this point.
The team has no extra picks, and they don't have a ton of depth to trade away. This is a team that might be offering picks in future drafts to the Eagles, if they are interesting in Sheppard.
Update:  The news that Jared Allen isn't going to be a Chief in 2008 changes the dynamics here, too.  Are the Eagles interested?  They have already invested in Chris Clemons in free agency.  On  top of that you have last year's 2nd round pick Victor Abiamiri and also Juqua Thomas.  Still, an interesting development.
Detroit Lions
Starting CBs: Leigh Bodden, Stanley Wilson
1st, 2nd, 3rd Rd Picks: #15, #45, #76, #87
I don't think this team is interested, but because of the Roy Williams rumors someone would complain if I didn't include them. They acquired a decent corner (Bodden) through a trade with the Browns, and they just re-signed Stanley Wilson.
Still, the Williams rumors persist. I don't think a cornerback is something the Lions, if they are even considering trading him, would be looking for in return.
Well, there you have it — 7 potential trade partners for the Eagles. I think the trade is likely to come from this group. If you have any comments or suggestions please fire away.


Apr 1, 2008 Eagles Rumors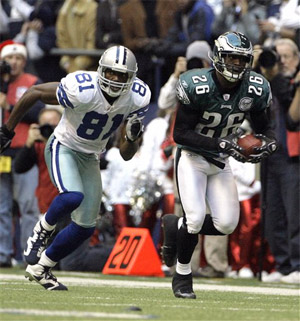 Andy Reid was his usual revelatory self, offering up this exciting quote when asked about Lito Sheppard at the NFL Owner's Meetings:
"Lito's on our team," Reid said. "He's on our football team."
Thanks, Andy.
But aside from that, there actually was some interesting whispering going on about Sheppard. From the same article by Bob Brookover:
A league source said yesterday that the Eagles have asked at least one team for a first-round draft choice in exchange for Sheppard, a hefty price tag for a player who has missed 14 games in the last three seasons because of injuries. The same source, however, said he would rather have Sheppard than DeAngelo Hall, the former Atlanta Falcons cornerback who was traded to the Oakland Raiders last week for a second-round draft pick this year and a fifth-rounder next year.

An Eagles source said that second- and fifth-round picks would be the least the team should expect in return for Sheppard. Another team source has consistently said that the offers the Eagles have received for Sheppard have been good enough that it remains likely the team will trade the cornerback.
No one should be surprised that the Eagles would initially put a big price-tag on Sheppard. They would want to start negotiations from a position of strength and they have the time to be patient and wait for the best return offer.
However, I was surprised at some of the comments comparing Sheppard to Hall. I don't like Hall, but many do. And he hasn't had the injury problems that Lito has had. On top of that, he's younger and can return punts very effectively.
If the Eagles are able to obtain the same compensation for Lito that the Falcons received for Hall, we should all be happy.
Tags: Lito Sheppard, Philadelphia Eagles
Mar 21, 2008 Eagles Rumors
As the status of Lito Sheppard remains in limbo while the Eagles look for a suitable trade partner, there is another big-name defensive back who is affecting the market: Adam "Pacman" Jones.
The agent for the man better known for his off-the-field action than what he's done for the Titans in real games stated that the Lions are one of three teams interested in trading for Jones.
Jones is reportedly available for a second-day draft pick. Presumably, the Eagles would ask for more than that for Lito (at least at first). But, then again, Lito doesn't come with all the criminal baggage — and oh yeah, he's not suspended indefinitely by the NFL.
Apparently Jones isn't interested in going to the Lions, so this entire point is probably irrelevant. He wants to play for the Cowboys or Patriots.
I find it amusing that a player as toxic as Jones feels he is capable of turning down opportunities to play anywhere. And I know they aren't known for their brilliant maneuvers, but I still find it incredible that the Lions think someone like Jones might be capable of behaving himself in Detroit. Strippers? Check. Guns? Double-check. That should work out just fine.
Tags: Lito Sheppard, Pacman Jones
Mar 12, 2008 Eagles Rumors
Yeah, so… apologies to Dennis Green.
Anyway, Dave over at Eagles' Scout uses the incomparable Football Outsiders to make a good point about Lito — he simply might not be as good as we think.
Lito has undoubtedly been there to make big plays when the team desperately needed them.  But his injuries have done more than just keep him off the field — they've made him less effective when he's on it.
The more I think about it the more pleased I am with the Samuel signing.
Tags: Lito Sheppard
Mar 11, 2008 Eagles Rumors
From ESPN Insider (subscription only):
The Rams have inquired about Sheppard, according to multiple reports. The Cardinals are also believed to be interested in trading for the two-time Pro Bowl cornerback.

Sheppard, who turns 27 in April, is under contract with the Eagles through 2011 and is scheduled to make $2.75 million this season. The 5-foot-10, 194-pounder is considered one of the better man-to-man coverage cornerbacks in football.
Obviously, the speculation would immediately turn to whether the Eagles be interested in Torry Holt. He's a good deal older (31) than any of the other big-name wideouts they are rumored to be chasing.
Would the Rams even consider trading him? I doubt it, considering that would leave them with a WR corps of Dane Looker and Donte Hall. But who knows.
Update: Apologies, I forgot about Drew Bennett. However, I don't think Coach Linehan would be on board for any move of Holt –
"There's no interest, no discussions about trading Torry Holt," Linehan said. "He's on our team, we want him on our team, and I hope he feels the same way."

…..

"If that were the case, we might have to line you up at wide receiver."

Besides, it simply makes no sense to move Holt. The release of Isaac Bruce leaves Holt, Drew Bennett and Dante Hall as the Rams' top three wide receivers. The team needs to add another quality body at receiver, not subtract one.
So yeah, this one seems unlikely. Holt signed a $40+ million, seven year extension in 2003, if you're interested.
Tags: Lito Sheppard, Philadelphia Eagles, St. Louis Rams, Torry Holt