Posts Tagged 'Larry Fitzgerald'
Mar 9, 2008 Eagles Rumors
The Cardinals insist Larry Fitzgerald isn't going anywhere. Now that the organization doesn't have any marquee free agents to go after, it seems more likely that they will retain him one way or another.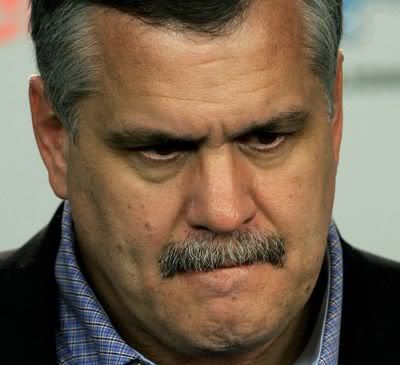 The Bengals tell anyone who will listen that they won't give in to Chad Johnson and trade him. The fact that they will take a monster $8 million cap hit if they do indicates they aren't lying.
The other big-name guy the Eagles are likely to be chasing, Roy Williams, is difficult for different reasons:
The Lions might be listening to trade offers. They would be foolish not to listen. But there is a big difference between listening to offers and shopping someone.

Unless the Lions were to get something remarkable in return — Philadelphia cornerback Lito Sheppard and a mid- to low-round draft pick isn't enough, in my book — it wouldn't make sense to trade Williams.

I know why the rumors are out there. Williams is in the last year of his contract. He probably wants a big raise. Some say he would rather play elsewhere. He cast doubt on his future himself last season.
That might be the biggest problem with attempting a trade to Detroit. Matt Millen is a hated man in that city, and trading away Roy Williams for anything less than another superstar might just induce riots outside of Ford Field.
If the Eagles are truly interested in Williams, they could undoubtedly put together a package that could help the Lions (Sheppard by himself would be a tremendous help to their terrible secondary). But will Millen have the cahones to trade away a fan favorite? I doubt it.
Tags: 2008 Free Agents, Chad Johnson, Larry Fitzgerald, Philadelphia Eagles, Roy Williams
Mar 7, 2008 Eagles Rumors
Maybe I'm way off the reservation here, but try to humor me.
I've long considered the possibility that that NFLPA is working behind the scenes with Eugene Parker to ensure Fitzgerald doesn't capitulate too much in his renegotiation with the Cardinals. The union is generally less nosy in football than it is in MLB, but I sincerely doubt they're ignoring the situation. But perhaps there is another story that is being overlooked — the impact on the franchise tag.
One of the things that the players union wants to bring up in new negotiations is the franchise tag. The players don't like it.
Well, wouldn't Fitzgerald's salary figures over the next two seasons raise the cost of "franchising" a wide receiver pretty dramatically? In 2007 the franchise number for wide receivers was $7.63 million. That number is determined by taking the average of the five highest paid players at that position (right?).
If Fitzgerald's salary is close to $15 million next season, wouldn't that figure go up quite a bit? Sounds like the kind of thing the owners and the NFLPA would be watching closely.
Update:  Interestingly, this scenario links the two guys currently most rumored to be traded to the Eagles — Fitzgerald and Roy Williams.  With his contract expiring next season, the Lions are likely to be forced into a position (if they still have him) of "franchising" Williams.  Fitzgerald's contract could make that a damn expensive proposition.
Tags: Larry Fitzgerald
Mar 7, 2008 Eagles Rumors
I've written extensively about the situation the Cardinals have gotten themselves in with Larry Fitzgerald. No need to rehash that.
Rod Graves, Go Sit in the Corner
What I'm going to point out today is the notion that somehow the Cardinals are the victim in this disaster is completely ludicrous. From Kent Somers today:
But they've known for years that they could face this situation. It's the price teams pay for picking high in the draft. Fitzgerald was the third overall pick in 2004, and he signed a deal laden with incentives that would pay him handsomely if he became an elite player.
This is not the price teams pay for picking high in the draft. It is the price teams pay for negotiating a short-sighted, stupid contract. With his rookie deal, the Cardinals essentially said "if you become a star, we're going to be broke and you're going to have us by the balls."
And if they saw this situation coming last year (there were plenty who did), why didn't they get Fitzgerald to the negotiating table and hammer out a deal then?
I genuinely enjoy Somers' reporting and viewpoint from Arizona, but he's wrong here. This is their own fault, and it's not common.
Even when the Cardinals do something right (draft a future superstar), they screw it up.
Mar 5, 2008 Eagles Rumors
It's the off-season. Most of the big-time free agents are signed, and unless you want to talk about what seems to be Brett Favre's thirty-second retirement, it's tough to find a legitimate story to write about.
But buoyed by the failed attempt at signing Randy Moss, Eagles blogs and NFL rumor sites have exploded (here, here, here, here) over the last couple of days with rumors of the Eagles attempted to obtain a different big-time receiver. Much of this speculation still revolves around Larry Fitzgerald.
Here's what I wrote a couple of days ago –
Many say there was never a shot at all. But any chance the Eagles had at prying away Larry Fitzgerald from Arizona is now gone. The Cardinals have no one left to chase after. No big-time free agents to sign (Alan Faneca signed with the Jets), no big-time players to retain (Calvin Pace did too!).

For the Cardinals, there's no real reason NOT to pay Fitzgerald the $15 million he's owed. There's no one else to spend it on, and it's not like you can save it for next year.
I still stand by that. Look, you can call me the captain of the Larry Fitzgerald fan club. I love the way the guy plays, what he brings to the table, and the way he carries himself. And I felt like there was a legitimate window to make a run at him while the Cardinals were still hoping to retain Pace and sign some new guys (like Faneca).
But the time for acquiring Fitzgerald, in my mind, has passed. What sense does it make for the Cardinals to dump him now? They can plan on paying him the fifteen million and still try and re-work the deal before the season begins. If it doesn't work out they can try to trade him again before the 2009 season or just cut him, get a ton of cap space, and then go after big time free agents at that time.
Let me say this again so it's clear — there aren't any big time free agents left the Cardinals want, so any cap space created by trading Fitzgerald is pointless.
And I'm not saying what GCobb and his crew are reporting is false. If I were the Eagles I would be calling the Cardinals anyway — there's no harm in asking — but unless the Cardinals are stupid I don't see it happening.
Update: After going through a series of "what ifs", I think Cardinals fans should be more upset than perhaps they are. If the front office had been pro-active and shown some degree of ambition, this team could be sitting pretty right now.
Consider the following:
First, the Cardinals wanted to sign Alan Faneca. He and Cardinals' Coach Whisenhunt have a great relationship and Faneca was reportedly interested in joining his old coach. Second, they wanted to retain Calvin Pace. A young and active linebacker, he had said he wished to remain in Arizona.
Next, remember that the Eagles had offered Lito Sheppard and a 2nd round pick for Fitzgerald. That trade would have freed up at least $12 million in cap space for this season. Along with the cuts they made, it would have given them enough room to re-sign Pace and make a strong offer for Faneca.
I don't think that's too far-fetched. The Cardinals could have turned Larry Fitzgerald into Calvin Pace, Alan Faneca, Lito Sheppard, and a 2nd round pick. It would have taken some real effort, but by all appearances it was there for the taking.
And the Cardinals sat on their hands.
Mar 3, 2008 Eagles Rumors
Many say there was never a shot at all. But any chance the Eagles had at prying away Larry Fitzgerald from Arizona is now gone. The Cardinals have no one left to chase after. No big-time free agents to sign (Alan Faneca signed with the Jets), no big-time players to retain (Calvin Pace did too!).
For the Cardinals, there's no real reason NOT to pay Fitzgerald the $15 million he's owed. There's no one else to spend it on, and it's not like you can save it for next year.
Mar 1, 2008 Eagles Rumors
As rumors continue to swirl that the Eagles are attempting to acquire Larry Fitzgerald, I'd like to point out that with every passing day of free agency it becomes less likely. Here's why:
The Cardinals were reportedly interested in two big free agents — Alan Faneca and their own Calvin Pace. Faneca has signed with the Jets. Pace is still out there, but probably not for long.
If they don't have anyone else to sign, they will likely conclude that paying Fitzgerald the $14.6 million they owe him this season is inconsequential. They won't want to lose Pace, not acquire anyone of consequence in free agency, and then trade Fitzgerald. It's a terrible situation for them and one their fans (both of them) should be angry about, but at least this gives the organization some sort of excuse — "blame it on Fitzgerald." I'm sure he'll appreciate that.
Tags: Larry Fitzgerald
Feb 29, 2008 Eagles Rumors
The Arizona Cardinals have entered the start of free agency with the shackles of the Larry Fitzgerald contract still tightly on them. According to Kent Somers, they are no closer to a deal than they were a week ago.
With every passing hour, it gets harder to retain Calvin Pace, who is visiting other teams. And it is harder to make any other improvements, either (like, say an Alan Faneca).
This has got to get resolved quickly or it will just be another frustrating and damaging episode for a franchise that has a long history of them.
The Cardinals front office must be frustrated, and surely the sharks are lurking.  You know the Eagles have called.
Feb 27, 2008 Eagles Rumors
When an organization and a player are negotiating behind closed doors it is often difficult to get a handle on how the negotiations are faring. Unless someone is a bonehead, both sides tend to downplay disagreements and give a positive spin on the situation.
But when things head south, you often see the battle for public opinion fought through proxies — the press corps.
That brings me to a new article written by Pete Prisco of CBS Sports. In it, he fawns over what he sees as the Cardinals new free-spending ways. He never criticizes them for getting in the Fitzgerald mess in the first place. Nor does he mention that Fitzgerald has all the leverage in this case, and that the union is often working behind the scenes pushing the player to get every penny.
What he does say, is this:
The Cardinals have offered Fitzgerald $25 million in guaranteed money, but he wants more than the $32.5 million in guarantees that Detroit Lions receiver Calvin Johnson got last year. But that guaranteed money was paid on a six-year deal. Parker wants more on a four-year deal. Offering $25 million on four years is not being cheap. How about more like being unrealistic on the part of the player?

Is Fitzgerald worth that money? Of course he isn't. But who is? In the current NFL climate, where journeymen free agents will get paid, Fitzgerald deserves a new deal — just not the outrageous numbers he's seeking.

He is young and popular and the Cardinals want to keep him, but at the same time they would love to keep their team together — and maybe make it better.

The receiver's greed won't let that happen.
He's not done, though. He goes on to talk about how Fitzgerald is selfishly keeping the team from improving and not allowing them to re-sign valuable players like Calvin Pace. Finally…
One thing's for certain about these talks: The Cardinals aren't being cheap. That's the old Cardinals. The new Cardinals have the revenue to give out lucrative contracts, and in this case they are more than willing to do so.
What I'm trying to say here is that it's difficult to imagine a more one-sided article. Maybe this is just another internet blowhard's opinion piece, but it could also be a journalist whose opinion being helped along by someone in the Cardinals organization.
Feb 26, 2008 Eagles Rumors
That's the latest from Kent Somers. Here's a few choice quotes to chew on.
From Larry's agent, Eugene Parker:
"We're looking for something that works for both parties, but we were told that he (Fitzgerald) was going to be a Cardinal this year no matter what and he's fine with that," Parker said Friday. "We're trying to find something that can work for both of us. We expect him to be a Cardinal one way or the other."
Very diplomatic.
Parker wouldn't talk about contract details but did acknowledge that he is seeking more than the $27.2 million in guarantees that Detroit receiver Calvin Johnson, the second pick in last year's draft, received in his six-year deal.

"Larry is a unique guy, a proven commodity now," Parker said. "He's not a draft guy that you hope can make it. He's already proven what he can do, so Calvin Johnson is not going to set our standards."
Ahh, there's something a little more confrontational. That means Parker is looking for $30+ million guaranteed. That's a lot of freaking money, especially when you have another receiver who might be as talented and young on the other side who you won't have to pay for a year or two.
The Cardinals have dealt with Parker several times over the years, and he and Graves have a good relationship. But Parker has a history of using time as an advantage, if he thinks it can create more leverage. He doesn't seem eager to consummate a deal right away, although that could change quickly.

"Obviously, his contract is what it is," Parker said. "If he (Fitzgerald) has to play for it, he'll play for it. We're just trying to see if we can get there on a multiyear deal."
The dreaded "it is what it is" comment.
Time is definitely on Fitzgerald's side.