Posts Tagged '2008 Free Agents'
Mar 9, 2008 Eagles Rumors
The Cardinals insist Larry Fitzgerald isn't going anywhere. Now that the organization doesn't have any marquee free agents to go after, it seems more likely that they will retain him one way or another.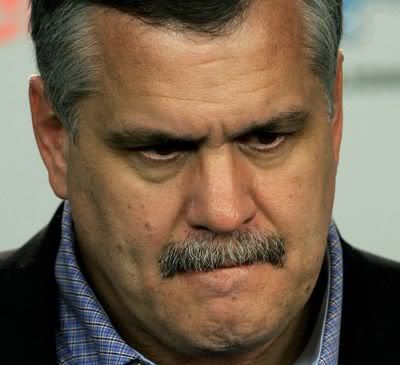 The Bengals tell anyone who will listen that they won't give in to Chad Johnson and trade him. The fact that they will take a monster $8 million cap hit if they do indicates they aren't lying.
The other big-name guy the Eagles are likely to be chasing, Roy Williams, is difficult for different reasons:
The Lions might be listening to trade offers. They would be foolish not to listen. But there is a big difference between listening to offers and shopping someone.

Unless the Lions were to get something remarkable in return — Philadelphia cornerback Lito Sheppard and a mid- to low-round draft pick isn't enough, in my book — it wouldn't make sense to trade Williams.

I know why the rumors are out there. Williams is in the last year of his contract. He probably wants a big raise. Some say he would rather play elsewhere. He cast doubt on his future himself last season.
That might be the biggest problem with attempting a trade to Detroit. Matt Millen is a hated man in that city, and trading away Roy Williams for anything less than another superstar might just induce riots outside of Ford Field.
If the Eagles are truly interested in Williams, they could undoubtedly put together a package that could help the Lions (Sheppard by himself would be a tremendous help to their terrible secondary). But will Millen have the cahones to trade away a fan favorite? I doubt it.
Tags: 2008 Free Agents, Chad Johnson, Larry Fitzgerald, Philadelphia Eagles, Roy Williams
Mar 1, 2008 Eagles Rumors
I'm particularly happy with the latest signing, DE Chris Clemons.  In the NFL you need line depth, and you're in really good shape if that depth can make plays.  This guy can get to the quarterback when he's relieving Trent Cole or Abiamiri (who looks like he's going into camp as the starter).
Jevon Kearse and Darren Howard were completely ineffective as DE's the last two years (when they were healthy).  Clemons and Juqua Thomas look like they can turn around the second unit.
Feb 25, 2008 Eagles Rumors
It's silly season all over the Internets. Rumors are spreading faster than this year's nasty flu bug, most of them complete nonsense. Just to give you an idea, take a look at the list of players who have been linked to the Eagles:
Randy Moss (various websites, Philly Inquirer)
Alan Faneca (CNNSI)
Asante Samuel (various websites, Philly inquirer)
Gibril Wilson (various websites, Philly Inquirer)
Donte Stallworth (various websites, Philly Inquirer)
Larry Fitzgerald (various websites, PFT, GCobb.com, me)
Chad Johnson (entire population of Eastern Pennsylvania)
Justin Smith (various websites)
Bernard Berrian (various websites, Philly Inquirer)
Andre Davis (Iggles Blog)
Roy Williams (various websites)
I'm sure I missed some. The point is, once you get a look at this ridiculous list you really understand how wild these guesses are. People are just throwing the proverbial jello against the wall to see if it will stick.
Hey, there's nothing wrong with it, as long as you take it for what it is. As I've said before, February is freaking boring and we're all looking for some excitement. Just don't get too worked up if none of these things actually happens.
Update: Thanks to our friends at Bleeding Green Nation, a Julius Peppers to the Eagles rumor! (originally from Delaware Online)
Feb 14, 2008 Eagles Rumors
With free-agency looming and every Eagles fan with a working voicebox begging for an impact wide receiver, I think it's worth taking a look at any current NFL player that, according to rumors and/or speculation, might be available — whether through free agency or trade. I'll rank them by desirability… as determined by me.
Larry Fitzgerald: I've written in depth about his situation. The Cardinals can not pay him what they owe him next year. They have to restructure his deal. This is not happening in a vacuum for them, either — they have several other marquee players who must be signed. Fitzgerald is physical with great hands. A true #1, game-changing player who also comes without the premadonna attitude of most premier receivers.


Roy Williams: He's got one year left on his deal with the Lions, and the speculation is he'll want to walk when it's over. If so, the Lions may make him available in trade. He'll be extremely expensive but he's probably worth it. He's huge and like Fitzgerald, game-changing. He is a bit eccentric, but has not been a locker room headache at all.
Randy Moss: Conventional wisdom says the Patriots keep him, but I wouldn't say it's a sure thing. This mess in Florida with the threat of a lawsuit appears to be a case of someone trying to blackmail him… but still, it's not the sort of thing the Patriots tolerate. If he is available, he's now over 30 but still has remarkable play making skills.
Chad Johnson: He wants out of Cincinnati. The Bengals continue to state that he will not be traded. His behavior over the last month has been counter-productive and could create some problems for their team this year. He's a gifted athlete, but he's not as physical as Fitzgerald or Williams. He tends to go down when he catches the ball over the middle, but will sacrifice his body to make a spectacular catch.

Donte Stallworth: A so-so year in New England for him. Certainly he would have liked bigger numbers that would have inflated his value as a free agent. If the Eagles pursued him they would again have a deep threat, and he's already familiar with the offense.


Javon Walker: He has said he would like out of Denver. They may just oblige him and cut him if he can't be traded. He's an injury risk, but he's also had two big years. He's tall and fast — the Eagles lack that combination. They also made a run at him a couple of years back, but the Packers refused their advances.
DJ Hackett: This guy is the hot name on the receiver free agent market. He's young and had a breakout year in Seattle. He's familiar with the WCO, but I think he's going to be overpaid. Hopefully not by the Eagles.
Bernard Berrian: I'm not impressed. He's had some huge drops in his career to go along with those 70 yard touchdowns. He's also going to ask for big money, and I don't think he's a real #1.
Bryant Johnson: This guy is a #3 receiver, but he's physical and has great hands. Been productive in an offense that already has two stud receivers.
There's a lot of talent that could be available, but there will be plenty of competition for the services of these guys. I didn't list any of the other free agents because I don't think they'd provide much of an improvement and thus the Eagles won't be looking at them.
The Eagles are surely taking a hard look at all of these guys and I would bet an offer is made to some one or some team. Reid, Banner, and Lurie know the fans are restless and they are going to do something this off-season that makes a splash. Count on it. It's just good business.
Tags: 2008 Free Agents, Bernard Berrian, Bryant Johnson, Chad Johnson, DJ Hackett, Donte Stallworth, Javon Walker, Larry Fitzgerald, Philadelphia Eagles, Randy Moss, Roy Williams