Nov 16, 2008 Eagles Rumors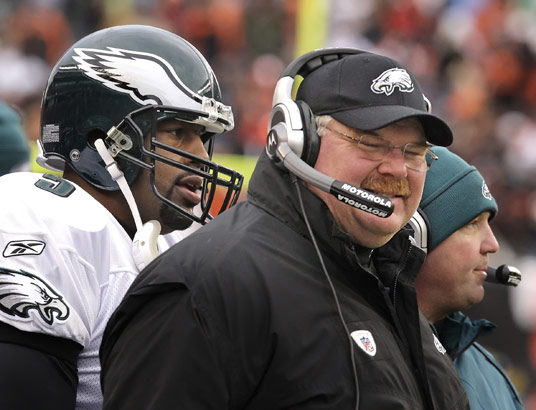 Hide!
First, let me get this out of the way.
HANK BASKETT NEEDS TO BE ON THE FIELD. He's the only Eagles wide receiver with any kind of physical advantages. Is there another wideout on the team who could have thrown that stiff arm and broken that play?
No.
Get him on the damn ball.
Moving on, this is going to be a bad week in the newspapers. There will be some reasonable articles written, but there's going to be a lot more stupid.
Try and stay calm, and I'd recommend doing what I've been doing for the last few weeks — taking each week as it comes.
Admit to yourself that this team simply isn't very good. That realization is comes hard. We had high expectations. But it's not happening.
Every player and position is accountable. And that's fine. But don't pretend there is a simple solution to the problems that face the Eagles right now. There is no magic formula, no silver bullet.
Enjoy the victories, but don't get too excited because this team isn't going anywhere. Don't take the losses too hard, no matter how magnificent and crushing the details of the loss may be.
And get your head on straight, because next week could be worse. The Ravens defense is HUGE and perhaps even more physical than the Steelers or Giants. Our band of merry midgets on offense will struggle. There may be injuries. Be prepared.