Archive for September, 2008
Sep 30, 2008 Eagles Rumors
You might have read the post two weeks ago where I laid out a pretty chart of which wide receivers McNabb was targeting the most frequently, and wondered how the chart would change once Reggie Brown came back.
In that post I made the comment that all of the Eagles wide receivers had a fantastic catch rate — everyone over 60%.  And I made note that Reggie Brown's career numbers (54%, 50%, 55% in his three years) were pretty pedestrian.
Well, this year hasn't started off so great — he's at 46%.  Now, that number may very well climb as he gets healthier and McNabb finds some rhythm with him.  But it's worth noting that right now the other four guys are still flying high:
Baskett:  Targetted 17 times with a 76% catch rate.
Avant:  Targetted 17 times with a 65% catch rate.
Jackson:  Targetted 35 times with a 63% catch rate.
Lewis: Targetted 16 times with a 63% catch rate.
Brown:  Targetted 13 times with a 46% catch rate.
Unless Reggie makes considerable strides before the bye week, I see no reason why he should even be considered a "starter."  Curtis will come back, and a Curtis/Jackson two wide receiver set is our best situation.  Brown should rotate in with Baskett and Avant in some various three and four wide receiver packages.  Greg Lewis can be relegated to spot duty.
And for those of you who like charts, here's the targeting chart for weeks three and four (since Brown came back):
As you can see, Greg Lewis' role has thankfully been reduced.  If I had my way, he wouldn't even be showing up on the chart.  DeSean Jackson was targetted 18 times in the weeks 1 and 2, and 17 times in weeks 3 and 4.  McNabb clearly has faith in the little guy, and you can expect that number to remain steady.
Tags: Reggie Brown catch rate
Sep 24, 2008 Eagles Rumors
Here's hoping Donovan stays healthy and gets to goof-off in Hawaii again this year.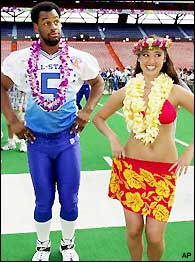 Sep 22, 2008 Eagles Rumors, Random
I wasn't just hearing things, right?  Ditka, on Al Davis' treatment of Lane Kiffin:
"Getting old is no reason to act old and act stupid."
Can Levitra find a way to get this into one of their Ditka ads?
Sep 22, 2008 Eagles Rumors
Hard to imagine anyone having a level of expectations for Stewart Bradley that he hasn't lived up to.  The Eagles run defense is #1 in the NFL, allowing a ridiculous 46 ypg.
Bradley has been making the correct reads, and he has the speed and strength to get into the running lane and stop the back in his tracks.  It's been impressive.
Peter King agrees:
"There aren't many middle linebackers stopping the run better than Philly's Stewart Bradley."
This group of linebackers is fast.  I've noticed it in every game, but yesterday it was apparent in the blitzes.  These guys get to the quarterback in a hurry when they're blitzing.  It was the kind of speed we were missing with the late days of Trotter, Spikes, and Dhani Jones.
It's been a big deal.
Tags: Stewart Bradley
Sep 22, 2008 Eagles Rumors, Sports Betting
If you had taken my gambling advice so far this year, you'd be 3-0.
Week 2, Skins +1 over the Saints
Week 3, Bengals +13.5 over the Giants, Seahawks -9.5 over the Rams
Sep 19, 2008 Eagles Rumors, Gaming
This weekend has some really nice matchups.  It also has some really nice gambling opportunities.  Here we go:
Bengals @ Giants:  Bengals are floundering and some say they might have already given up on the season.  If they lose this one consider betting against them the rest of the year.  But I like them this week, getting almost two touchdowns.  Eli is due for a game where he throws 3 interceptions, and the Bengals offense is going to break out in the beautiful weather New York will have on Sunday.  Bet on the stripes.
Rams @ Seahawks:  Things are going to get ugly in St Louis.  The Seattle defense is still pretty good, and the Rams are going to struggle to get in the endzone.  Give the 10 points and take the Seahawks.
Dallas @ Green Bay:  Something most people don't know:  Al Harris isn't very good any more.  Look for the Boys to try and get him lined up opposite TO.  The Packers also have a glaring coverage issue wherever Atari Bigby is supposed to be.  Jason Whitten is going to dominate him.  I hate to say it, but I really have trouble believing the Cowboys can lose this one unless Aaron Rodgers plays out of his mind and the Packers passing game can't be stopped.
Tags: Cincinatti Bengals, Dallas Cowboys, Green Bay Packers, New York Giants, Seattle Seahawks, St. Louis Rams
Sep 19, 2008 Eagles Rumors
It looks like Reggie Brown is going to play this weekend, at least in some capacity.  This certainly is an interesting situation.  The wide receiving corps has largely been great, with the exception of a few costly drops in the Cowboys game.
No one is really sure if Reggie coming back is necessarily going to help or hurt us.  You could certainly argue it could hurt by mentioning Brown's nack for making an untimely drop or the risk that his return could, in some way, stifle Jackson's development.
I don't think any of that is accurate, but all four of the Eagles wide receivers (Jackson, Baskett, Lewis, Avant) currently have catch percentages over 60, which is incredible but unlikely to be sustainable.
Reggie Brown's career numbers:  (54%, 50%, 55%).  Those aren't real great numbers for a guy who fits into the "possession receiver" mold.
But nonetheless, Reggie's physical skills should be welcome.  When he wants to he can look great, and he has the ability to make some incredible catches.
How will this affect the rest of the receivers?  Well, let's take a look at who Donovan has been targeting to date [note: this is wide receivers only].
This leaves no doubt has to who has become McNabb's favorite receiver.  When Reggie comes back he's not likely to be taking time away from Jackson so much as Lewis and Baskett.  I am really looking forward to seeing where Jackson's target rate goes after the next few weeks.
The other thing to mention here is how surprised I have been at Greg Lewis' play.  Despite the terrible sideline drop against Dallas he has looked really good — McNabb is finding him open and Lewis is making the play.
Tags: DeSean Jackson, Donovan McNabb, Eagles Receivers, Reggie Brown
Sep 17, 2008 Eagles Rumors
Sean Considine also missed two tackles on special teams, and he was the last person with a legit shot to tackle Felix Jones on the TD return, but he took a bad angle.
Make a move, Andy.
In happier news –
McNabb has started the season 46-70 for 642 yards (9.17 ypa), 4 TD's and 0 interceptions.  The passing offense is a model of efficiency right now.  I don't need to remind you that it's missing people, either.
Good stuff from Will Leitch:
3. Philadelphia Eagles (1-1). This month, The Atlantic Monthly has a great story about watching film of the 1958 NFL Championship game with Eagles coach Andy Reid. It's a compelling piece, full of fun detail about Reid, who seems to enjoy football more than everything else in the world combined. Which is good, because the world of football would not benefit from a raging heroin addiction.

1. Dallas Cowboys (2-0).  It's pretty amazing how Terrell Owens has remained an elite player, even into his mid-thirties. It speaks to his conditioning and his devotion. But is it just me, or is his face starting to look stranger as he gets older? It's like his head is flattening out and widening. I'm not sure what's going on there.
Finally,  Clark Judge pens an article on something we already know — the NFC East is, by far, the best division in the NFL.
Tags: Sean Considine
Sep 16, 2008 Eagles Rumors
This one didn't leave me sick like several of the games last year did.  But it was still exhausting.  The first half was such a constant adrenaline rush I wonder what the locker rooms were like at halftime.  Could anyone calm down?
Anyway, some things I liked and didn't like.  First, this team has now put up 38 and 37 points in consecutive weeks.  I don't think we need to worry about scoring this year.
However, we might need to worry about the defense, obviously.  You can't repeatedly give up the big plays they did.  And some of the matchups were just puzzling — Dawkins on Owens in the red zone?  That's not fair.
And it's time to pull the plug on Considine.  Whether you put him on special teams or in the defensive backfield the guy has a bullseye on him.  He can't make a play.  He's slow, undersized, and he makes mental mistakes.  He's not an NFL player.  Give it up Andy.
Back to the defense in general — you have to be pretty pleased with the run defense, which looked solid for most of the game and understandably wore down a little at the end (but still got a stop when they absolutely had to).  Quentin Mikell continues to be a beast who tackles anything near him.  He laid a couple of nasty shots on Barber, too.
There were some terrible drops by Jackson, Lewis, and Baskett.  Jackson took points off the board on two occasions by not securing the football.  And I'm not even talking about "the play".
McNabb looked freaking awesome for most of that game, but the indecision and the fumble are inexcusable for a veteran.  You know me, and you know I'm in the bag for McNabb.  This team is going to be fine this year, but he can't be making those mistakes.
O-Line pass blocking:  dominating.  O-Line run blocking:  average.
There is absolutely nothing scary about playing in Texas Stadium for this team.  This could be nice in the playoffs.
More on the way… gotta make a couple of things happen at work.
Update [9:09 AM ET] –  The special teams coverage units were obviously atrocious, but Quentin Demps almost caught Felix Jones on that TD sprint.  That is impressive.