Mar 9, 2008 Eagles Rumors
The Cardinals insist Larry Fitzgerald isn't going anywhere. Now that the organization doesn't have any marquee free agents to go after, it seems more likely that they will retain him one way or another.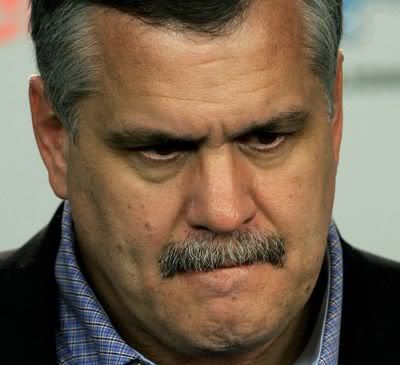 The Bengals tell anyone who will listen that they won't give in to Chad Johnson and trade him. The fact that they will take a monster $8 million cap hit if they do indicates they aren't lying.
The other big-name guy the Eagles are likely to be chasing, Roy Williams, is difficult for different reasons:
The Lions might be listening to trade offers. They would be foolish not to listen. But there is a big difference between listening to offers and shopping someone.

Unless the Lions were to get something remarkable in return — Philadelphia cornerback Lito Sheppard and a mid- to low-round draft pick isn't enough, in my book — it wouldn't make sense to trade Williams.

I know why the rumors are out there. Williams is in the last year of his contract. He probably wants a big raise. Some say he would rather play elsewhere. He cast doubt on his future himself last season.
That might be the biggest problem with attempting a trade to Detroit. Matt Millen is a hated man in that city, and trading away Roy Williams for anything less than another superstar might just induce riots outside of Ford Field.
If the Eagles are truly interested in Williams, they could undoubtedly put together a package that could help the Lions (Sheppard by himself would be a tremendous help to their terrible secondary). But will Millen have the cahones to trade away a fan favorite? I doubt it.
Tags: 2008 Free Agents, Chad Johnson, Larry Fitzgerald, Philadelphia Eagles, Roy Williams